NOTE:  The below does NOT apply to new members who joined in late 2016 or after, who automatically receive a new style badge.
A PayPal Button has been added to the "Pay Dues or Donate" tab.  If you want a new-style member ID Badge (new logo clip on name badge) for $9.00.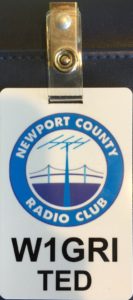 NOTE:  The images below are just photographs for illustrative buttons.  Please read the instructions and follow them to place your order.
Please select the"Pay Dues or Donate" tab illustrated below then find the Order New Badge section (about half-way down the page — also illustrated below).  Fill in your Call and Nickname and press "Buy Now".  We will deliver the badge at a meeting when it is available or mail it if needed.